Dr. Noble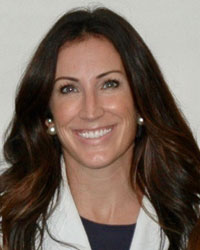 Dr. Noble comes from a family of dentists and hygienists, and has always wanted to be a dentist. She loves what she does and believes that this is apparent to all of her patients. In fact, patients find Dr. Noble to be very personable, with a skilled and gentle approach to dental care. Dr. Noble is a professional who loves dentistry and loves helping her patients improve their oral health.
After attending Texas Tech University as a Spanish major, she graduated from the Baylor College of Dentistry, and since then has earned certifications in the following:
Implant placement and restoration
EndoSequence
Cosmetic restoration
Ceramic cosmetic restoration
Dr. Noble is also a member of the American Dental Association, the Texas Dental Association, the Implant Guild of Dallas, and the Dallas County Dental Society. She and her husband, Eric, have three children, George, Henry, and Rosemary. When she's not at the office helping her patients, Dr. Noble enjoys running, reading, and spending time with her family and friends. ""The secret, I don't know… I guess you've just gotta find something you love to do and then… do it for the rest of your life." — Max Fisher from Rushmore
Jackie, Registered Dental Hygienist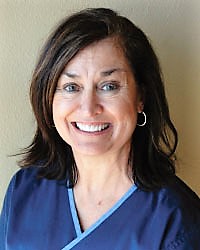 A graduate of Baylor College of Dentistry Caruth School of Dental Hygiene, Jackie joined our practice in 2007. Over the past 30 years, Jackie has worked in multiple dental offices, including one in Neuchatel, Switzerland, where she helped implement dental hygiene into the practice.
Jackie loves being a dental hygienist and enjoys taking care of her patients and getting to know them. She and her husband, Wilson, have two children. Will is a graduate of Texas A&M University and Ann is currently attending Pepperdine University. She has two German schnauzers named Tulip and Ringo. Outside of the office, Jackie enjoys crossfit, Pilates, and running in 5ks. She loves watching football and spending time with friends and family. "I can do all things through Christ who strengthens me." –Philippians 4:13
Codi, Office Coordinator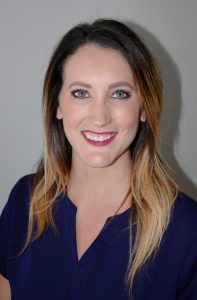 Codi graduated from Rowlett High School and then attended Collin County Community College in 2007 where she obtained her Registered Dental Assistant certification. She joined our team in 2017 and enjoys working with her wonderful co-workers. She looks forward to helping patients feel welcomed and understood, and loves getting to know them and their families.
Outside of the office, she enjoys boating, traveling, reading, and being a mom and wife to her two girls and husband.
"The future is as bright as your faith." -Thomas Monson
Michell, Registered Dental Assistant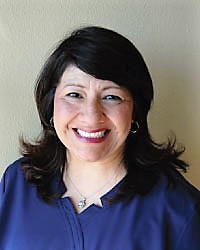 After graduating from Sunset High School, Michell attended Richland College and then joined our practice in January of 2000 as a Registered Dental Assistant. Michell is certified in infection control, radiology, nitrous oxide monitoring, and CPR. Her patients appreciate her caring nature and knowledge of dentistry. For Michell, her patients are like family and she enjoys caring for them over the years and getting to know their families.
Michell has been married to her husband for 25 years. They have two children. Julia is 21 and in her senior year at the University of Dallas. Jacob is 18 and a senior at North Hills Preparatory and will be attending the Art Institute of Dallas.
Michell has four pets, Tyko, Roxy, Kezler, and Kiki the cat. Outside of the office, Michell enjoys fast walking, reading, and arts & crafts. "In the end, it's not the years in your life that count. It's the life in your years." –Abraham Lincoln
Nan, Insurance Specialist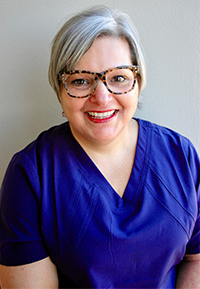 Before Nan joined our team in 2016, she attended TWU, where she studied Social Work. In addition to being a highly knowledgeable insurance specialist, Nan is also a Registered Dental Assistant. She has a particular knack for helping patients utilize all of their insurance benefits by discovering new ways to cover procedures. As a people person, she also enjoys meeting, greeting, and getting to know new people every day.
When she's not working, Nan regularly volunteers for Habitat for Humanity in Collin County, and as a Docent for the President George Bush Library. Nanette also enjoys beading, reading, traveling, crafts, decorating, and party planning. "Give: of your time, talent, and self…"
Stefanie, Registered Dental Hygienist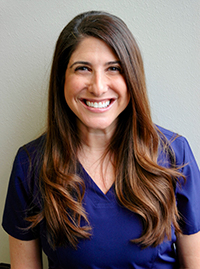 A graduate of the University of Maryland, School of Dental Hygiene, Stefanie has over 20 years of experience in all specialties of dentistry. Her numerous continuing education courses are focused primarily in periodontics, nutrition and integrative medicine. Stefanie's goal is for her patients to have a pleasant and comfortable experience. She loves being both an educator and a clinician and truly appreciates her patients' trust in her as their hygienist. Stefanie routinely volunteers with the annual "Dentistry With A Heart" campaign, aimed at providing free dental/dental hygiene care to underserved people of Dallas, as well as participation in the Dallas Sealant Program.
Outside of work, Stefanie loves spending time at the beach with her husband, Brian, their two kids, Ava and Finn, and their Great Pyrenees, Giro. She loves any opportunity to spend time with her dear friends. "You must be the change that you wish to see in the world." -Gandhi
Visit Dr. Noble's Office in Highland Park Today!
Dr. Natalee Noble and the staff of Noble Dentistry in Dallas, TX are more than just a team of dental professionals; they're a family, and one that grows with every new patient! To learn more, schedule an appointment by calling today at 214-522-3110.